New JEEP 2022 Jeep Wrangler on Long Island NY on Long Island l Amityville NY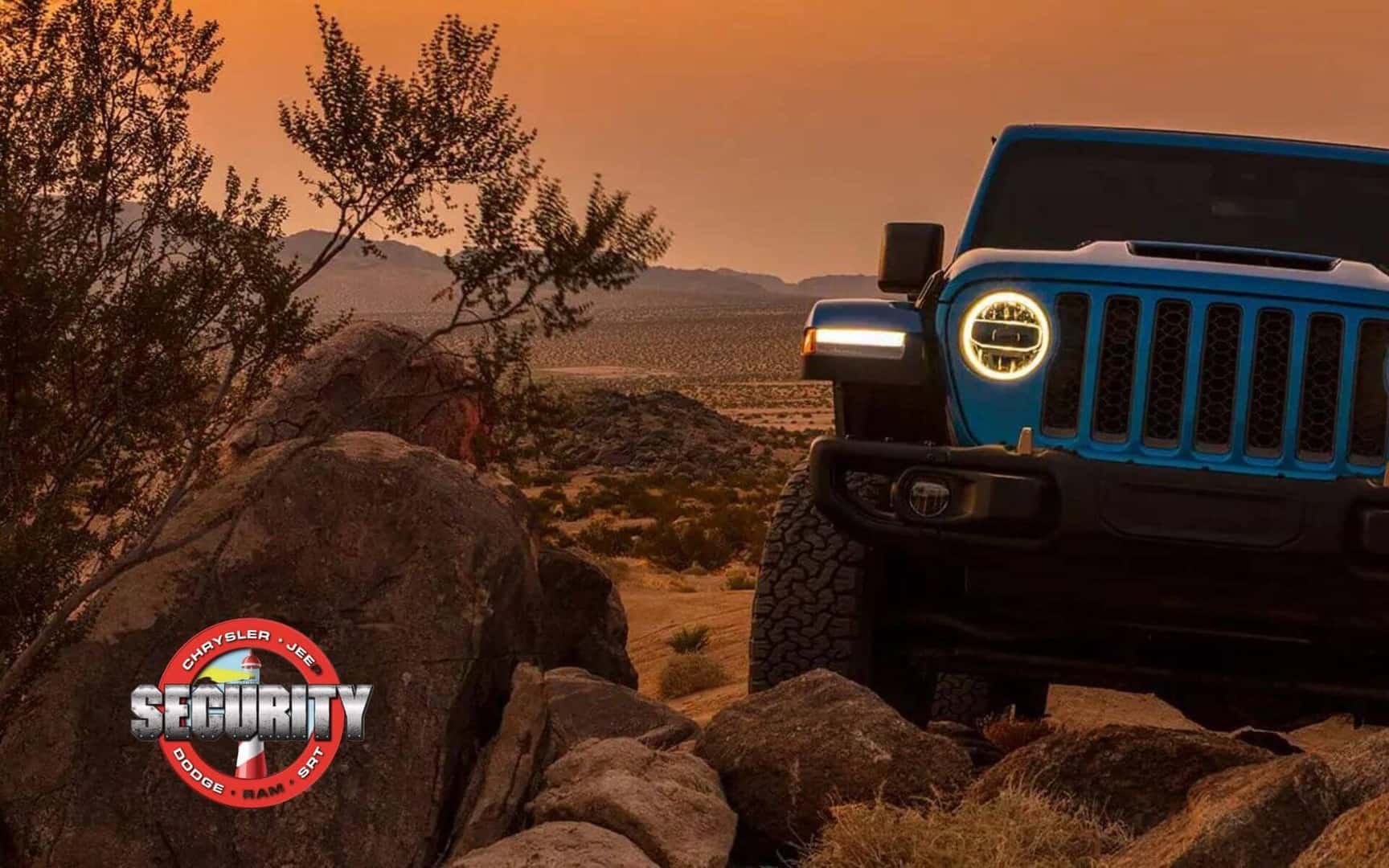 2022 Jeep Wrangler on Long Island, NY
Iconic. Thrilling. Legendary.
Largest Jeep Wrangler Inventory Available at Security Dodge Chrysler Jeep Dodge RAM – Long Island, NY
There's nothing better than the feeling of freedom and adventure as you cruise along the coast or in off-road terrain in a brand-new 2022 Jeep Wrangler. When it comes to incredible mileage, a timeless and iconic exterior and interior design, and technological features that provide ease of use, the Jeep Wrangler poses to be one of the greater pleasures one can have in this lifetime. With its unmatched utility, modern technology, and legendary capabilities only attainable in an original Jeep, the 2022 Jeep Wrangler possesses true classical style interspersed with the more modern power to get out and onto any track and just drive.
This year's version of the Wrangler offers the most opportunities for adventure on Jeep's stellar line-up, as well as the most available customization options when compared to previous models. Forever in a category of its own, the 2022 Jeep Wrangler is here to give every Jeep lover the thrill of adventure and freedom in its purest form.
Get ready to conquer whatever life throws at you, and cruise through the roads along Long Island, New York, and beyond in utter automotive perfection, when you visit Security Dodge, your #1 go-to, one-stop-shop for all things Jeep.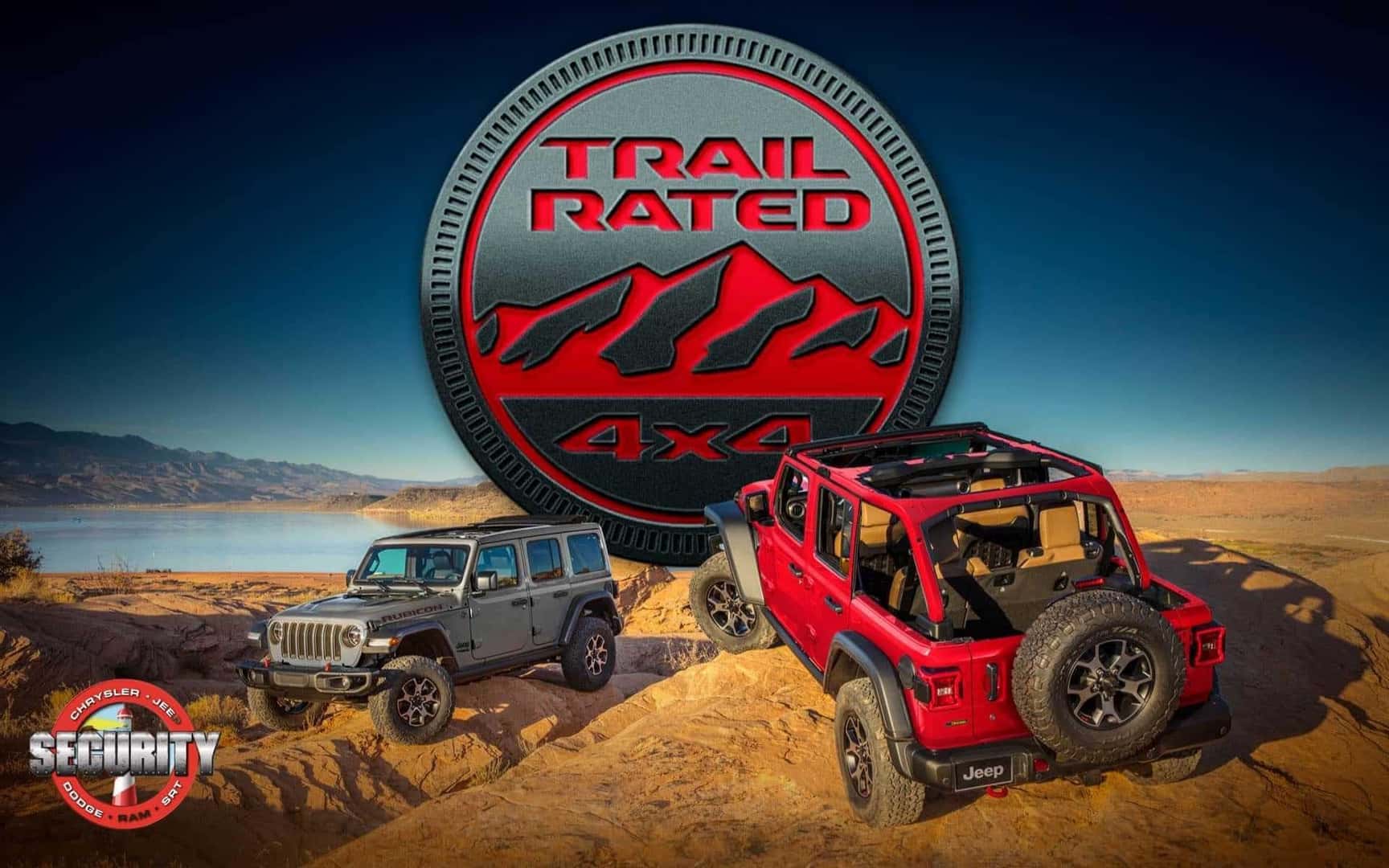 Capable Beyond Belief – Wrangler Capabilities – 2022 Jeep Wrangler Lease Deals Long Island NY
Designed for optimal performance both on and off the road, the 2022 Jeep Wrangler possesses capabilities that are unmatched in its class. Watch as it gives you the power to explore where no other vehicles even dream of going, all in comfort, luxury, and iconic style. As the 2022 Jeep Wrangler is built for any adventure, it's only fitting that it has received the Trail Rated badge, which is a badge conferred to only the most capable of vehicles that are able to withstand the harshest and toughest terrains and conditions out there.
You have the option to elevate your 2022 Jeep Wrangler's capabilities even further, with the Xtreme Recon Package that features the much larger 35-inch tires for the Wrangler Willys, Rubicon, and Rubicon 392. Under the hood, you are able to pick the power level you want by selecting from a choice of up to 4 available engines. From the 2.0L Turbo Engine with ESS and the 3.0L EcoDiesel Engine with ESS, to the 3.6L PentaStar V6 with Etorque with ESS and the 3.6L PentaStar V6 with ESS, your 2022 Jeep Wrangler's heart is always powerful and consistently efficient. Lastly, the Wrangler of today boasts legendary 4×4 capabilities, with a variety of standard and available off-road features that are there to deliver impressive performance and get you to where you want to go regardless of the terrain. From the Command-Trac 4×4 system to the Selec-Trac 4×4 and Rock-Trac 4×4, you'll be sure to find the Wrangler just for you and your adventurous needs.
Truly, the Jeep Wrangler 2022 model is in a league of its own when it comes to exploring your freedom. Check out our available inventory for the latest models here at Security Dodge by clicking on the link below: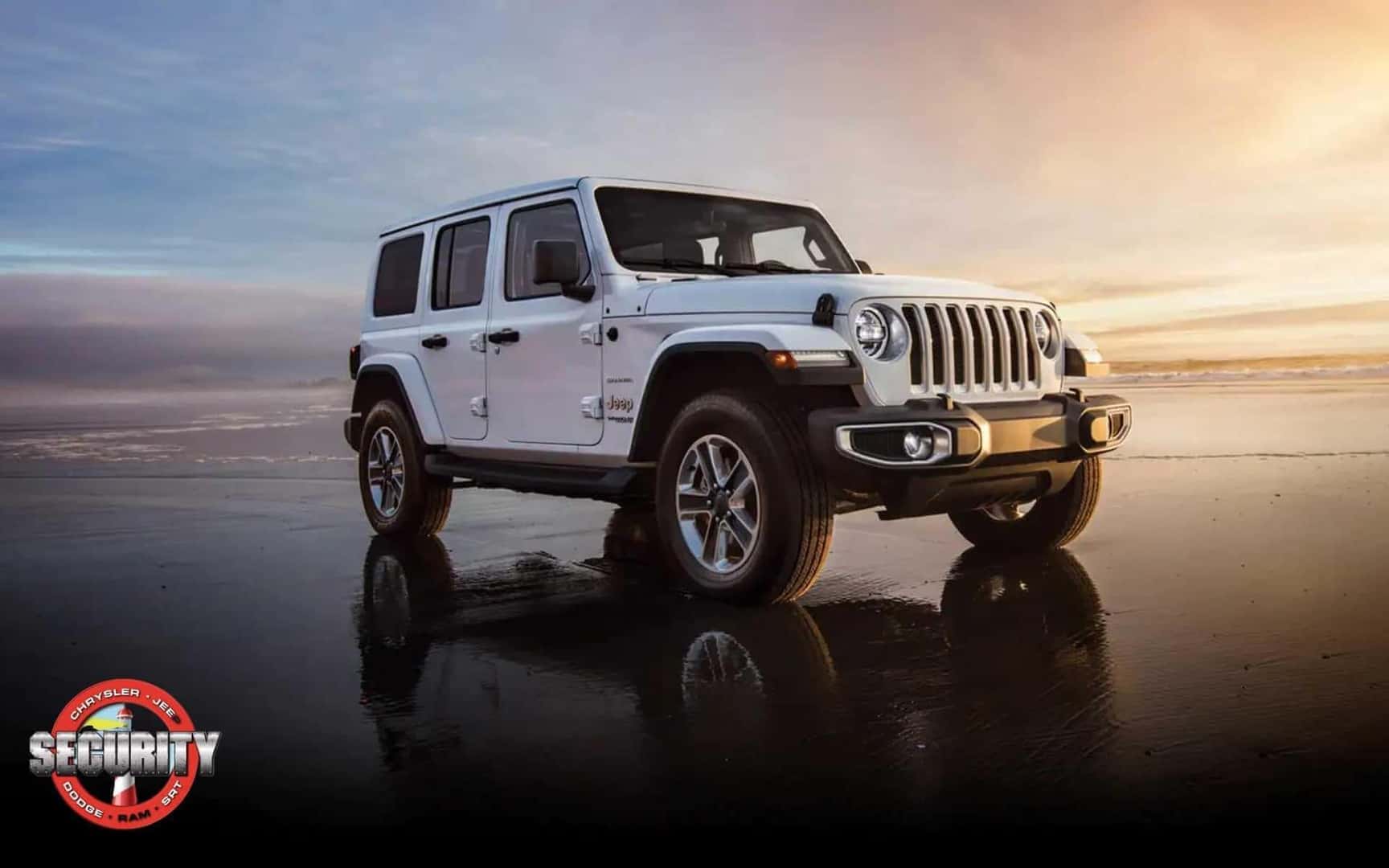 A Classic Style Molded To Perfection – Wrangler Exterior – 2022 Jeep Wrangler Dealer Long Island NY
The 2022 Jeep Wrangler model, available at Security Dodge Long Island, has retained the Wrangler's Willys Quad design and continues to pay homage to the World War II military inspired looks that have made it an icon in practically every corner of the world. Infused with accents of modernized sleekness, the 2022 Jeep Wranglers from Security Dodge do not fail to achieve that sense of 'coolness' while retaining its bulky and masculinesque exterior. The Sunrider feature gives you premium weather protection, with its high-strength hardtop giving maximum access to the fresh air and sun of Long Island any day of the week. Further your sense of freedom by availing of half-doors and the Mopar Door-Off Mirror Kit. Available upgrades such as the available Xtreme Recon Package and the Corning Gorilla Glass windshield provide for even more protection and safe driving through any trail.
What makes the 2022 edition of the Wrangler truly in a league of its own is a number of significant trim-specific equipment changes that improve the overall experience of riding in one. Its off-road capabilities maintain the highest in quality, and have been boosted even further by improvements to its axle ratio: Already one of the most capable off-roaders on the market, the Wrangler Rubicon is now available with a 4.88 axle ratio when equipped with a 3.6-liter V6, delivering an impressive 100:1 crawl ratio.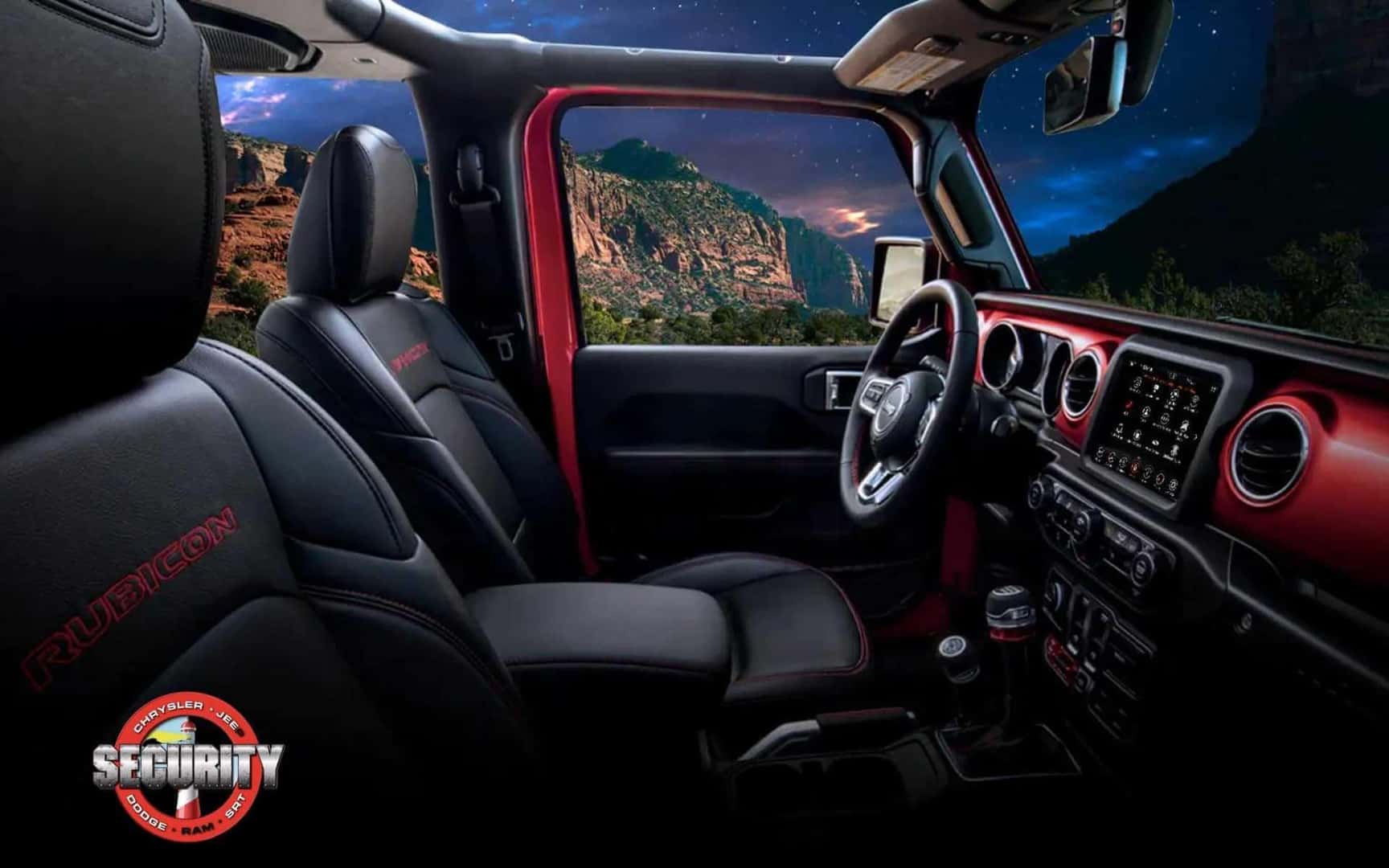 It's the Inside that Counts – Wrangler Interior – Jeep Dealer Long Island NY
The 2022 Jeep Wrangler, available in Security Dodge Long Island, features major quality of life improvements and interior upgrades that seal the deal for anyone looking for the best in a Jeep. The latest tech, maximum comfort, and pure fun are all encompassed in one vehicle, providing the best and most stylish experience in driving along the Long Island coast. From its nine-speaker Alpine Premium Audio System, keyless entry options, and larger touchscreen displays, to its storage-friendly Trail Rail system, improved cabin filters, and more, technological advancements have perfected the Jeep Wrangler interior experience in every way.
On top of all that, you can be sure to cruise in supreme comfort with the Jeep Wrangler's features for combatting both cold and warm environments. Available heated front seats and a heated steering wheel option makes for more comfortable rides during the colder months, further enhanced by a Dual-Zone Automatic Temperature Control and heated mirrors. Do whatever you possibly can in your Jeep Wrangler, available now at Security Dodge Long Island.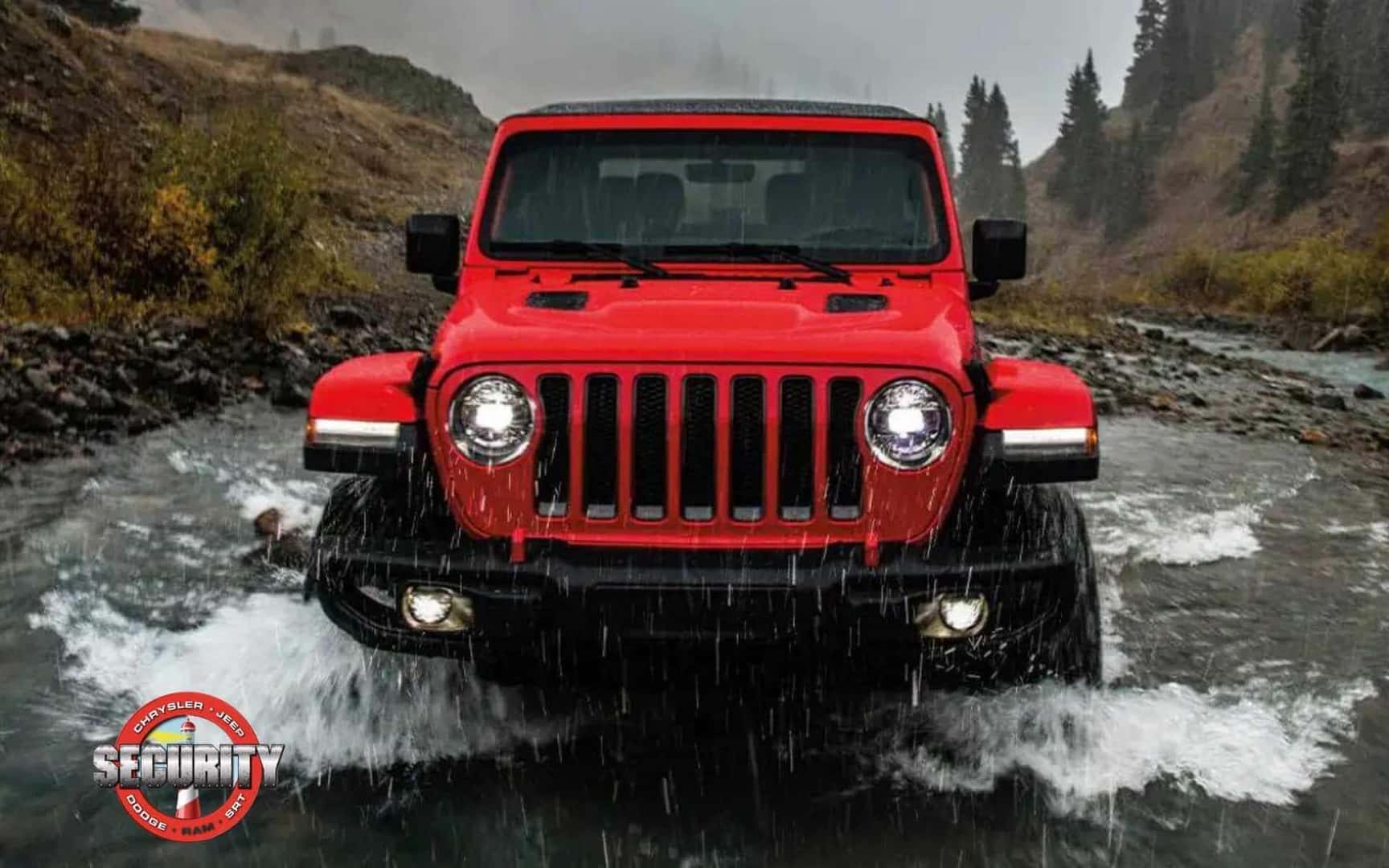 Get Out and Play with the Best – Wrangler Specs – New York Jeep Wrangler Dealership
The 2022 Jeep Wrangler allows you to experience the most capabilities out of a Jeep, as it is designed for optimal performance both on- and off- road. Security Dodge's Jeep Wranglers give you the power to explore where other vehicles don't dream to go, with superior specs unmatched by any other Jeep.
Possessing the Trail Rated badge, the 2022 Jeep Wrangler has passed rigorous and grueling tests to prove its capabilities in the face of tough terrain, harsh weather conditions, and more. Tested for traction, water fording, maneuverability, articulation, and ground clearance, you can be sure that your Jeep Wrangler is a beast in every situation. The available 2.0L Turbo engine delivers 295 pound-feet of torque for outstanding off-road performance, with an option to add-on even more efficiency with automatic Engine Start/Stop technology. As always, the Command-Trac 4×4 system delivers torque to all wheels for the best possible traction when all four wheels are required.
Features like the 4.88:1 Axle Ratio, Heavy-Duty steel skid plates, and Off-Road+ Button give you the utmost confidence and capability to explore even further than ever before. Do whatever you possibly can in your Jeep Wrangler, available now at Security Dodge on Long Island.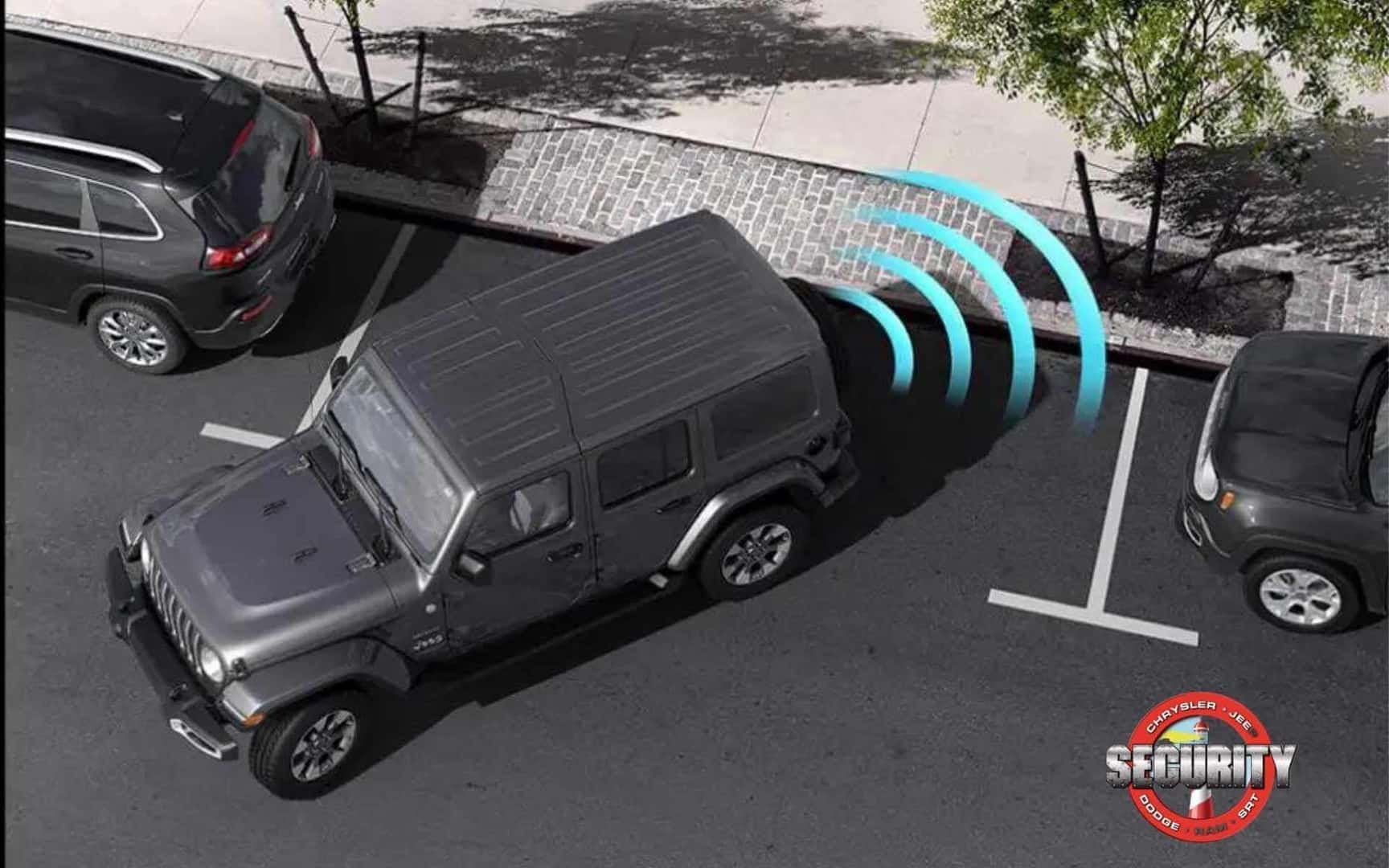 Cruising with Confidence – Wrangler Safety and Security
Nothing provides a premium level of confidence in driving through challenging terrain all along Long Island and beyond than a guarantee in safety and security, something that is fully provided for by the 2022 Jeep Wrangler. The 2022 Wranglers offered by Security Dodge offer many standard and available safety and security features that help keep you and your passengers protected from any and every type of risk or challenge out there on the road.
From durable Corning Gorilla glass windshields and the iconic durability of the Jeep Wrangler's exterior plates and surfaces, to smart tech that provide for another extra layer of protection, the Jeep Wrangler will keep you safe and secure in any situation. Features like blind-spot monitoring, rear cross path detection, forward collision warning, adaptive cruise control, and automatic high-beam headlamps all provide even more confidence to the average driver, and will give your passengers added comfort so that they know they are always protected. Do whatever you possibly can in your Jeep Wrangler, available now at Security Dodge Long Island.
Classic and Intuitive Technology – 2022 Jeep Wrangler Technology
The 2022 Jeep Wrangler, available now at Security Dodge in Amityville, gives you the ability to stay connected and in command wherever you may go. With available systems that enable you and your passengers maximum connection to the world beyond, it's deemed as the Most Technologically Advanced Wrangler Generation Ever.
From tools such as the available remote keyless entry system, the available 4G LTE Wi-Fi Hotspot system, and the award-winning Uconnect system (which offers an 8.4 inch touchscreen, customizable settings, and accessible via Voice Command), you're receiving the best that technology and Jeep have to offer. Other technological advancements such as the available Forward-Facing Off-Road Camera, the built-in Amazon Alexa, and the available 7-inch Driver Information Digital Cluster Display are all made to ensure that you are driving in the best modern conditions that only Jeep can provide. Do whatever you possibly can in your Jeep Wrangler, available now at Security Dodge Long Island.
Largest 2022 Jeep Wrangler Inventory NOW Available at Security Dodge – Long Island's RAM & Wrangler Headquarters
Various models of the all-new Jeep Wrangler 2022 line are available right now at Security Dodge for Jeep lovers throughout New York and beyond, especially in the Long Island area. Browse through our list of inventories for an updated knowledge of available units, and visit our dealership today for the best deals!
Different Needs, Different Trims
<Wrangler Sport>
The Wrangler Sport is the Wrangler's base default trim, focusing more on function than added comfort. It offers a host of features including tow hooks, manual door locks, crank windows, 17-inch steel wheels, fog lights, five-inch touchscreen display, skid plates, and more.
<Wrangler Willys Sport>
The Wrangler Willys Sport takes all the features of the Wrangler Sport and adds some nifty upgrades such as all-weather floor mats, a limited-slip differential, black painted grille, wheels and badges, and four-wheel disc brakes. The Willys package also includes the Willy's decals on the hood and tailgate, as well as a ParkView Rear Back Up Camera for added safety. Lastly, it features a Zipperless Premium soft top that is easily removable for even more outdoor feels.
<Wrangler Sport S>
The Wrangler Sport S takes the base default Wrangler Sport and adds a touch more to the comfort department. Alloy wheels, leather-wrapped steering wheel, tinted windows, and power door locks and windows all come with the Wrangler Sport S package.
<Wrangler Willys>
With tires built especially for the off-road adventure, the original Wrangler Willys is better equipped to perform in all kinds of terrain than those of the Sport. It also features more ruggedness, both to its overall look and to its specifications, allowing you to truly feel the classic vibe of the Willys.
<Wrangler Sport Altitude>
The Altitude version of the Wrangler Sport offers even more enhanced features such as 18-inch black wheels fitted with all-terrain tires, black trim accents for both interior and exterior, advanced off-road suspension, and a standard three-piece black hardtop roof.
<Wrangler Sahara>
The Wrangler Sahara is your mid-tier trim, offering even more comfortability and luxury features than the standard Sport. This 4-door model has the standard features such as 18-inch wheels, standard 4-wheel drive, body-colored fender flares, body-colored grille fitted with chrome inserts, seven-inch touchscreen display, an automatic climate control, Apple CarPlay, and Android Auto.
<Wrangler Rubicon>
The most rugged trim and model of Jeep Wrangler out there, the Rubicon takes inspiration from the off-road trails of Northern California. Ride in awe with 17-inch wheels fitted with 33-inch off-road tires, a cloth interior, a soft-top roof, Heavy-duty Dana 44 axles w/ shorter gear ratio, electronic locking rear and front differentials, rock rails for underbody protection, electronic disconnecting stabilizer bar at the front, automatic climate control, power windows, keyless entry, and push-button start mechanism.
<Wrangler Sahara Altitude>
The Sahara also comes with the option to upgrade itself even further to Altitude levels, with added features that are available to the Sport Altitude such as your body-colored three-piece hardtop w/ headliner, leather seats, and a parking brake handle with a shift knob.
<Wrangler High Tide>
For all the beach-lovers out there, the Wrangler High Tide, as it is aptly named, has features that make it perfect for cruising by the beachfront. With 35-inch tires, a Sunrider for its Hardtop, and LED headlamps and fog lamps, this beast of a Wrangler will definitely turn some heads over at your desired summer destination.
<Wrangler High Altitude>
Elevating the Wrangler even further is the Wrangler High Altitude, which offers everything the Altitude possesses but to a different degree of comfortability. The High Altitude features a sport-tuned suspension, body-colored mirrors, bumpers, door handles, and fuel door, 4G LTE WiFi Hotspot, 20-inch wheels fitted with all-season tires, Alpine audio system, parking sensors, keyless entry, blind-sport monitoring and cross-traffic alert, 8.4 inch touchscreen display with an advanced infotainment system, LED headlights and taillights, and LED daytime running lights. An absolute perfection if you're looking for that serious upgrade.
<Wrangler Rubicon 392>
Taking the ruggedness of the Rubicon further, the Wrangler Rubicon 392 boasts additional features such as an impressive 6.4L V8 engine (that generates 470 horsepower), an advanced suspension system with Fox absorbers, a unique exterior styling with bronze accents, leather-wrapped sport-tuned steering wheel, leather sport seats with additional bolstering, and an active exhaust system with four tailpipes.
<Wrangler 4Xe>
The most fuel-efficient and one of the most potent Wrangler trims and models out there, the Wrangler 4Xe is Jeep's take on the hybrid electric vehicle. Delivering impressive horsepower and instantaneous torque, the Wrangler 4Xe is able to provide incredible performance both off-road and on-road, and is planet-friendly due to it being Jeep's exclusive plug-in hybrid vehicle (PHEV).
Financing and Additional Information – Financing Deals on 2022 Jeep Wrangler New York
With multiple options for financing available for you, getting yourself a brand-new 2022 Jeep Wrangler is easier than ever before. Security Dodge's financing programs are tailor-made to suit every type of buyer, and much like the 2022 Jeep Wrangler, are geared towards the best possible experience for each and every customer. Talk to us today, and we'll be sure to provide you with specific quotations with regards to your potential purchase.
Various models of the 2022 Jeep Wrangler line are available right now at Security Dodge for buyers in the Long Island, NY area and beyond. Browse through our list of inventories for updated knowledge of available units, and visit our dealership today for the best deals! Call 631-859-7135 to schedule your test drive today.