How to Make Your Tires Last Longer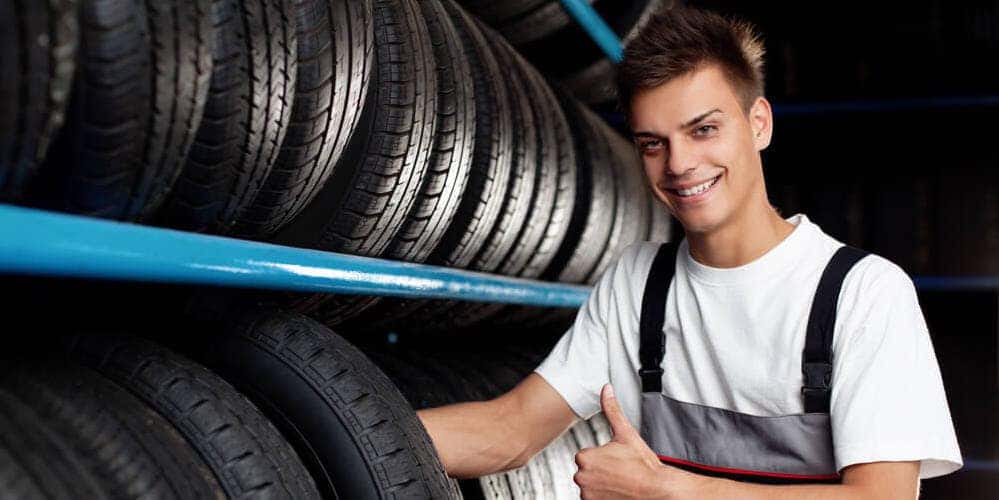 Savvy Amityville drivers know that treating your tires with care will help extend their life and performance, providing extra safety and stability for years to come. Along with regular tire maintenance, keeping an eye on your tires' appearance and ongoing wear and tear will alert you to issues before they cause expensive repairs. Learn how to make your tires last longer with these service tips from Security Dodge Chrysler Jeep Ram.
What Causes Tire Tread Wear?
The road conditions and weather in Long Island will affect your tires' wear, along with your personal driving habits. Look for these tire tread wear patterns to detect any possible problems and create long life tires:
Edge Wear: If you notice the edges of your tires wearing out faster, underinflation is likely the culprit.
Inner & Outer Tread Wear: Also known as "toe wear" or "camber wear," excess wear on the inner or outer part of the tire often points to tire misalignment.
Center Wear: The tire is probably overinflated. Check your owner's manual for the correct PSI.
Patchy Wear: If the tread wear on your tires is showing up in patches, they're likely out of a balance and it's time to visit a Dodge, Chrysler, Jeep, Ram service center near Amityville.
Cupping Wear: Cupping wear is a diagonal scalloping of the tire. This indicates a serious issue with the suspension system, and you should schedule a service appointment as soon as possible.
Tips for Getting Long-Lasting Tires
Following your vehicle's recommended maintenance schedule will grant you worry-free driving in Massapequa, thanks to having certified technicians ensure everything is in working order. Your tires require regular service as well, including the following tasks:
Rotate Your Tires Every 5,000 Miles – Tires don't wear evenly, especially if you have a model with all-wheel drive. Rotating the tires allows the ones working the hardest to take a break.
Get Your Tires Balanced – After your tires are rotated, make sure to have them balanced. If the weight is distributed to one wheel more than the other, this could also create uneven wear.
Check Your Tire Pressure Monthly – Tires can lose up to a pound per square inch of air pressure each month. It's best to keep them at the correct levels using your Tire Pressure Monitoring System (TPMS). In the winter, they could lose more and the summer will cause them to gain more.
Check the Vehicle Alignment Twice Yearly – If your wheels are misaligned, they'll wear out a lot faster. This is easy to notice as the steering wheel may shake. This can happen over time, or if you hit the edge of a curb or a pothole. Be sure to watch for the signs.
Have Your Tires Checked at Security Dodge Chrysler Jeep Ram
At Security Dodge Chrysler Jeep Ram, our goal is to keep you safe, which is why we offer a variety of service specials to make your next maintenance appointment even more affordable. We use genuine OEM parts for your Dodge, Chrysler, Jeep, Ram vehicle to ensure a perfect fit every time, and aim to be your Amityville guide for anything you need.
More from Security Dodge Chrysler Jeep Ram

Security Jeep – Introducing the 2022 Jeep Grand Cherokee near Massapequa NY The team at Security Jeep near Massapequa is thrilled to introduce the 2022 Jeep Grand Cherokee. This is the fifth-generation Grand Cherokee based on the new platform that was introduced last year with the Grand Cherokee L. Options include seven core and sub…

Security Ram – Review the 2022 RAM 2500 near Levittown NY The 2022 RAM 2500 has arrived at Security Ram, and we are offering some of our best-ever lease specials to Levittown and the surrounding areas. The most notable update for the 2022 model is a digital rearview mirror that can provide you a virtual…

Security Ram – A 2022 RAM 3500 is unmatched near Huntington Station NY The 2022 RAM 3500 near Huntington Station is a pickup truck like no other, and it is now available at Security Ram. Certainly, the performance and capabilities it delivers are a big part of what makes the RAM 3500 so compelling. But…